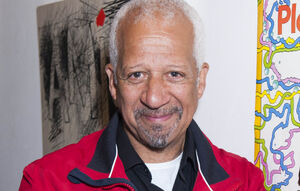 Derek Griffiths (born 15 July 1946 in Woking, Surrey, England) is a British actor who appeared in numerous British children's television series in the 1960s to present and has more recently played parts in TV drama. From 2016, he played Freddie Smith in Coronation Street: he left the role in March 2017 to star in a stage production of Driving Miss Daisy.
Griffiths was known in his early years for his Play School appearances alongside the likes of Chloe Ashcroft, Johnny Ball and Brian Cant. A talented multi-instrumentalist, he voiced over and sang the theme tune to Heads and Tails, a series of short animal films for children produced by BBC Television, and also sang and played the theme tune to the cartoon Bod. Another children's TV role was in Granada Television's early 1980s series Film Fun, in which he played the entire staff of a cinema (the manager, the commissionaire (with the catchphrase "Get on with it!!"), the projectionist, the usherette and also himself) while also showing cartoons such as Bugs Bunny, Daffy Duck and Wile E. Coyote and Road Runner. He appeared on Crown Court (1973) as an accused fraudster Raoul Lapointe, from the Belgian Congo. In 1975, Griffiths played Ko-Ko in The Black Mikado at London's Cambridge Theatre. He was also the English voice of SuperTed (SuperTed was originally made in Welsh).
In 1997, Griffiths originated the role of Lumière in the original West End production of Beauty and the Beast at the Dominion Theatre and played the role of the Child Catcher in the West End run of Chitty Chitty Bang Bang at the London Palladium.
In December 2015, it was announced that Griffiths would be joining the cast of Coronation Street.