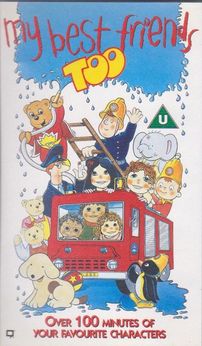 My Best Friends Too is a 1994 children's compilation video released by the Video Working for Children, NSPCC, NCH action for children and BVA charity companies in the UK. It features the episode 'SuperTed's Dream' and ten other favourite children's characters.
Old Bear: Little Bear's Big Race
Fireman Sam: Lost in the Fog
Tots TV: Hedgehog
Pingu the Icicle Musician
Bump and the Talking Tree
Teddy Trucks: Rosie's Day Out
Noddy's New Friend
SuperTed's Dream
Rosie and Jim: Painting
Spot Goes To The Fair
Postman Pat's Rainy Day
The 'Frog King' story that John Cunliffe writes in the Rosie and Jim episode 'Painting' is cut out before the ending song of Rosie and Jim.
The 'that's Spot' narration by Paul Nicholas and the two barks from Spot clip is removed after the still credits at the end of 'Spot Goes to The Fair' just before the cheeky made up introduction of 'Postman Pat'.
Big Ears is seen with Noddy in the middle picture on the back cover, but doesn't appear in the actual episode of 'Noddy's New Friend'.
Station Officer Steele is seen in Jupiter next to Elvis in the Fireman Sam image on the back cover. but isn't seen in the actual Fireman Sam episode of 'Lost In The Fog'.