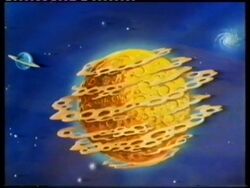 The Planet Spot is a planet somewhere in the galaxy. It is the home of Spotty, his sister Blotch, their parents and several relatives.
Planet Spot is a peaceful planet that has a very unusual custom of everything being spotted. Animals also dwell there but only two are mentioned by Spotty, Bald Birds and Spotted Zebras.
SuperTed visits his friend's planet quite often and one particular adventure was when Texas Pete tried to steal the cosmic dust found only on this particular planet, but his plans were thwarted once again.