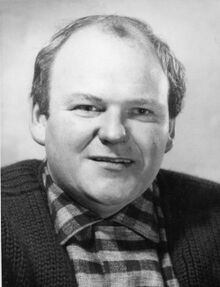 Roy Mitchell Kinnear (8 January 1934 – 20 September 1988) was an English actor. He is known for his roles in films directed by Richard Lester; including Algernon in Help! (1965); Clapper in How I Won the War (1967); and Planchet in The Three Musketeers (1973), reprising the latter role in the 1974 and 1989 sequels. He is also known for playing Henry Salt in the 1971 film Willy Wonka & the Chocolate Factory.
He role the voice of Bulk in SuperTed.
Kinnear made his stage debut in 1955, and came to prominence in the BBCsatirical comedy series That Was the Week That Was in 1962. He went on to appear in numerous British television comedy programmes, including The Dick Emery Show (1979–81), and in the sitcoms Man About the House (1974–75), George and Mildred (1976–79) and Cowboys (1980–81).